On looking back at a previous post about my trip to America back in 2013, during which I camped for a week in 3 different locations, it struck me that with holiday season fast approaching that wanted to tell people about the amazing tent I took with me.
Quite literally one of the cheapest tent I could buy, a steal at £13 (it was a Tesco Basics 2-man Dome tent). You, on reading this might turn your nose up at such a cheap tent believing that you need to "spend more to get more" I might have even thought that at one point too speaking from experience is nothing worse that camping, it raining and you being wet! Living in Scotland I feel I can speak with some authority on the subject!
This dome tent was a god send to me and I'll tell you why.
I wanted to specific things from my tent; small and light and would fit in my suitcase, easy to assemble, big enough for me cheap tent that I could throw away at the end of my trip, to create space  for bringing all those goodies back.
The dome was very compact and very light weight (weighing in at 1kg), it easily fitted in my case no problem and Its waterproof rated right out of the bag.
When I got the tent home I took it out into the back garden to practice putting the tent up  It was extremely easy to put up (not as fast as a pop up tent, but try getting one of those in your suitcase), really really simple, its two flexible poles, you side them over the diagonals and clip them into place and its up. The tension of the poles lifts it and creates the dome, you then place a square piece of fabric across the top which is held in place with elastic It has a sewn in ground sheet.
After getting the tent up, I then treated the fabric using Nikwax Tent and gear waterproofer. This is a liquid in a spray bottle, you simply spray and let dry on the outer surface of the material. I also used Gelert seam sealler, which is a liquid in a tube, like a glue pen, you simply wipe the sponge end down the stitched seams.
Of course I was not expecting rain, I was going to fly into Nevada and visiting locations in 4 of the desert states, and it was the end of August.
Why do this on a tent thats already water proof? you might ask.
Simple, being overly cautious I wanted to make sure it was 100% totally water proof!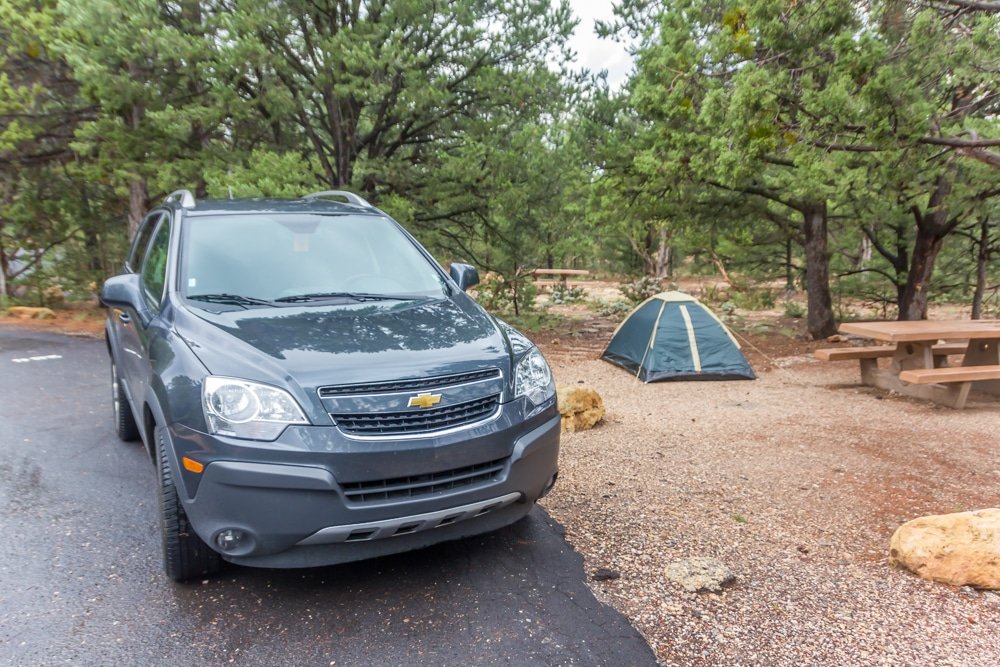 I flew into Las Vegas collected my hire car and set off for the Grand Canyon, on the way I drove through some very heavy rain. Upon arriving at the Canyon it was dry and a reasonably nice day, but no sooner had I found my camp-ground pitch than I felt a couple of drops of rain. I put the tent up as quickly as possible and thought to myself I hope this wee tent holds up or I am going to be soaked.
It rained… NO it poured down, virtually from the second I got the tent up, until about 10am. There was thunder and lightening repeatedly though out the night. But in the morning I was amazed to see only a small amount of water had leaked in where the ground sheet was stitched at the corners. During the day and following night it again poured down with more thunder and lightening, but the tent did a great job at keeping me dry.
I then drove on to Monument Valley, which was dry and an amazing place to visit.
I was concerned that the tent would become too hot, but that didnt happen i could simply open the door to the tent (keeping the mosquito net panel zipped) and allow the air out. When I felt it cooling down I closed the door.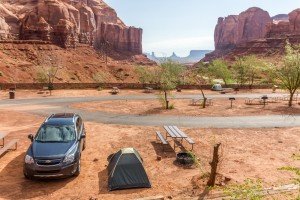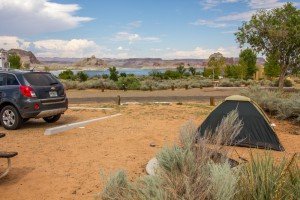 On to Paige, Arizona (near Antelope Canyon) for another 2 nights, where I had another huge electrical storm  (photo below).
During my trip I did have a couple of Americans who could not believe I was sleeping in such a small tent, but it was literally just for sleeping in. In the morning there were lots of larger tents ripped to pieces or water logged.
Again, sometimes "bigger is not always better" – I have to say I felt quite smug with my £13 tent, and a little sad at leaving my tent behind at the end of my trip, but i simply could not fit it in with all the extras I wanted to bring back from my trip.